"Every day you may make progress." Winston Churchill. The labor market has made great strides this year, as the economy has averaged 229,000 new jobs per month in 2014, the fastest pace since 1999. However, key details in the latest report show more progress is needed.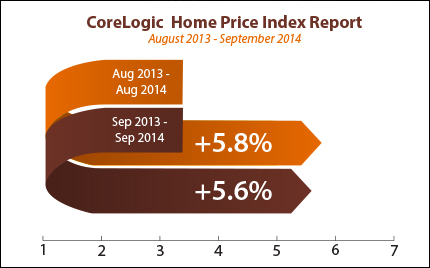 The October Jobs Report showed that 214,000 jobs were created, below the 235,000 expected. Of importance to note: a big percentage of the gains were concentrated in retailers, restaurants and bars—all of which typically increase ahead of the holidays.
On the surface, there was good news as the Unemployment Rate fell to 5.8 percent from 5.9 percent, reaching its lowest rate since July 2008. However, wage growth remains tepid, as hourly earnings rose by only 3 cents, with the year-over-year increase at just 2 percent. And the Labor Force Participation Rate (LFPR) came in at 62.8 percent, still near the lows last seen in 1978. The LFPR measures the proportion of working-age Americans who have a job or are looking for one, and it should be moving higher in a recovery.
In housing news, research firm CoreLogic reported that home prices, including distressed sales, rose at an annual pace of 5.6 percent in September. This was the slowest annual rate since August 2012, and well below the 11.8 percent gain recorded this past February. Housing price gains are definitely trending lower after their meteoric highs last year.
The bottom line is that home loan rates remain near some of their best levels of the year, and now is a great time to consider a home purchase or refinance. Let me know if I can answer any questions at all for you or your clients.
Forecast for the Week


The economic calendar is quiet this week, but the second half of the week features several key reports.
Economic news doesn't begin until Thursday with Weekly Initial Jobless Claims, which have been below 300,000 for eight straight weeks.
On Friday, Retail Sales will be released along with the Consumer Sentiment Index.
Remember: Weak economic news normally causes money to flow out of Stocks and into Bonds, helping Bonds and home loan rates improve, while strong economic news normally has the opposite result. The chart below shows Mortgage Backed Securities (MBS), which are the type of Bond on which home loan rates are based.
When you see these Bond prices moving higher, it means home loan rates are improving—and when they are moving lower, home loan rates are getting worse.
To go one step further—a red "candle" means that MBS worsened during the day, while a green "candle" means MBS improved during the day. Depending on how dramatic the changes were on any given day, this can cause rate changes throughout the day, as well as on the rate sheets we start with each morning.
As you can see in the chart below, Mortgage Bonds improved after the October Jobs Report was released. Home loan rates remain near historic lows and I will continue to monitor their movement.
Chart: Fannie Mae 3.5% Mortgage Bond (Friday Nov 07, 2014)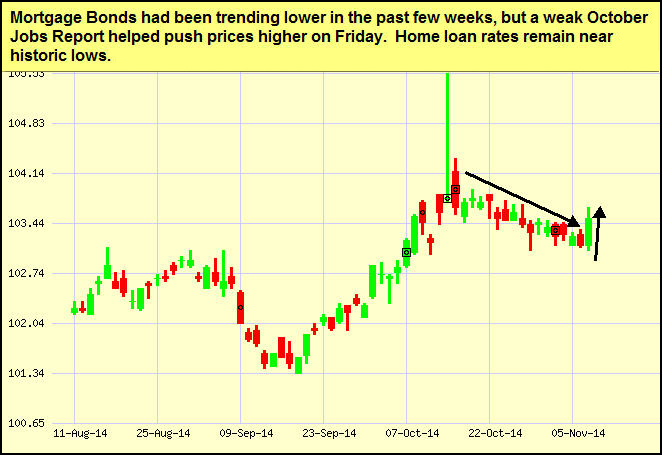 Why Are You Using LinkedIn?
By David Ackert, AckertAdvisory.com
Being on LinkedIn is all well and good, but unless you know why, you can easily get stuck in an unproductive web of meaningless connections.
For your consideration, here are four LinkedIn goals, along with recommendations on how to achieve them:
1. Target: LinkedIn is a great way to target potential prospects and allies. Given that targeting relies on introductions from your existing connections, make sure you only accept invitations from people who know you well enough to broker an introduction for you. Targeting someone who's not in your network? Consider upgrading to a Business Premium or Sales Navigator account.
2. Attract: If you have a unique practice or specialty that is likely to be sought out, you don't have to limit your connections in the way a "targeter" would. Accept invitations from anyone who could have access to relevant business opportunities. Join groups that align with your areas of interest and expertise. Statistically, participation in groups is at least three times more likely to drive relevant traffic to your profile.
3. Broadcast: Trying to make a name for yourself? Connect with anyone whose opinion matters to you. Post content such as articles, blogs and announcements to your feed on a regular basis so that the people in your network become more aware of you. When you post to a discussion group, ask a provocative question that will engage your audience.
4. Service: If your goal is to use your LinkedIn connections to add value to your clients, make sure you are connected to your clients. Ask them regularly about their problems so you can marry content and connections to their needs. This is a good way to let them know that you are focused on their problems.
Chances are you want to get something out of LinkedIn (besides spam), so decide on your intended outcome and start linking accordingly.
Please feel free to pass these tips along to your team, clients and colleagues.
Source: The Ackert Advisory
Economic Calendar for the Week of November 10 – November 14
| | | | | | | | |
| --- | --- | --- | --- | --- | --- | --- | --- |
| Date | ET | Economic Report | For | Estimate | Actual | Prior | Impact |
| Thu. November 13 | 08:30 | Jobless Claims (Initial) | 11/08 | 280K | 290K | 278K | Moderate |
| Fri. November 14 | 08:30 | Retail Sales | Oct | 0.3% | 0.3% | -0.3% | HIGH |
| Fri. November 14 | 08:30 | Retail Sales ex-auto | Oct | 0.2% | 0.3% | -0.2% | HIGH |
| Fri. November 14 | 10:00 | Consumer Sentiment Index (UoM) | Nov | 87.5 | 89.4 | 86.9 | Moderate |